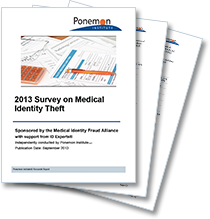 Ponemon Institute
2013 Survey on Medical Identity Theft
The 2013 Survey on Medical Identity Theft conducted by the Ponemon Institute and sponsored by the Medical Identity Fraud Alliance (MIFA) with support from ID Experts measures the prevalence, extent, and impact of medical identity theft in the United States to consumers and the healthcare industry.
Medical identity theft is quickly becoming a national healthcare issue with life-threatening consequences; and is now the fastest-growing fraud. Medical identity theft is on the rise, and tainting the entire healthcare ecosystem.
Thank you to our Members
Special thanks to many of our Founding Members for their support of this research and their leadership in the development of solutions and best practices for the prevention, detection and remediation of medical identity theft.
To obtain a copy of this report, please complete the form below. The Survey will be sent upon receipt of submission to the email address provided.