MIFA MEMBERS & PARTNERS WORKING TO COMBAT
MEDICAL ID FRAUD
MIFA Founding Member Meditology Services published a research paper based on a study focused on ethical hacking, also known as penetration testing, and why it is a very effective way to test the security of healthcare information systems. The paper, "Hacking Healthcare: Real-world Healthcare Security Exposures from Penetration Tests," drives an increased awareness of the need for the healthcare industry to harden systems against both external and internal threats. The paper also helps healthcare organizations understand how to take a proactive security stance based on the concepts, methodology, approaches, and a description of various real-world penetration testing and related results.
The paper includes:
Performing a penetration test and assess the current state of your organization's IT security posture.
Penetration testing methodology and how to conduct penetration testing assessments.
Validating whether patching processes are operating effectively, users have strong passwords, IT teams are securely implementing applications and infrastructure components, firewalls are securely configured, medical devices are protected, and other critical security controls are effective.
Demonstrating possible breach scenarios and present the results of a penetration test showing to senior leadership.
Click here to download the paper.
---
As Electronic Medical Records grow in use and patient portals increase in adoption, healthcare organizations will inevitably experience more risk. Fraudsters use more and more sophisticated tactics to attempt access to patient portals. Identity and access management tools have needed to evolve in order to stop fraud. Strong identity verification is the first line of defense when protecting patient portals from fraud and stopping medical identity theft. What is a patient portal and how do you decrease fraud and prevent identity theft within them? MIFA Member IDology's paper Improving Patient Portal Adoption and Decreasing Fraud with Advanced Identity Verification Solutions as well as their infographic can help you understand. Click the image to view the full graphic.
Click here to view the full infographic information and other resources from IDology.
---
Medical identity theft is a growing problem that has a dramatic ripple effect on healthcare organizations, providers, and patients. Learn more about the problem and how to protect your organization and patients in this infographic by MIFA Founding Member IDT911. Click the image to view the full graphic.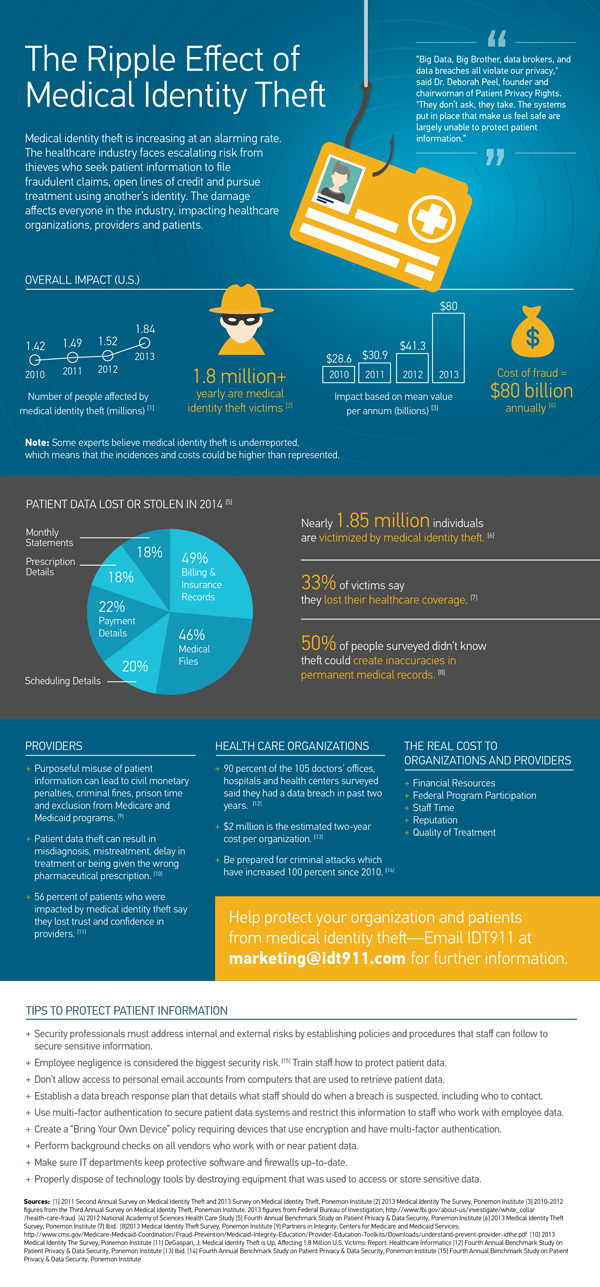 ---
For advice on curbing identity theft and the healthcare fraud that often follows on its heels, FierceHealthPayer brought in two experts to speak on an identity theft webinar earlier this year: Marita Janiga, J.D., executive director of the National Special Investigations Unit and Hotline at Kaiser Permanente, and Rebecca Busch, R.N., president and CEO of Medical Business Associates, Inc.
Marita serves on the MIFA board of directors. Reducing exposure to medical identity theft has become a priority for insurers as rising numbers of customers fall victim to this crime.
The session covered identifying red flags, sharing information between providers and payers, steps for payers to take if fraud is suspected, and SSNs as an identifier. Click here to read the full interview transcript.
The accompanying complimentary webinar, The Growing Challenge of Medical Identity Theft, can be accessed here.
---
Learn How to Manage Medical ID Fraud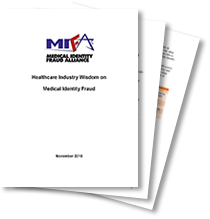 Industry Wisdom on Medical ID Fraud
Healthcare Industry Wisdom on Medical Identity Fraud offers food-for-thought on how healthcare organizations can implement and improve their anti-fraud programs. The paper spans across a variety of topics including fraud management, health IT issues and patient authentication.
Get the Healthcare Industry Investments paper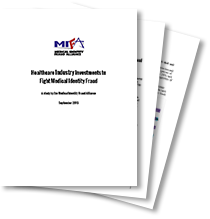 Investments to Fight Medical ID Fraud
Healthcare Industry Investments to Fight Medical Identity Fraud looks at the types of investments and priorities the industry is making to detect, prevent and mitigate medical ID theft and fraud.
Download the Survey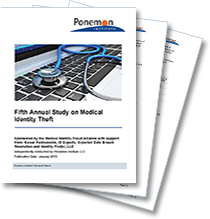 Survey on Medical ID Theft
The Fifth Annual Study on Medical Identity Theft measures the prevalence, extent, and impact of medical identity theft in the United States to consumers and the healthcare industry.
TESTIMONIALS
The Identity Theft Resource Center (ITRC) is proud to be a founding member of MIFA. Anyone can be a victim of medical identity theft and most individuals do not understand how it occurs, how to minimize their risk, or where to go for assistance. That is why the ITRC is committed to building awareness and educational tools for consumers and the medical community through various partnerships, such as MIFA.
Eva Casey Velasquez, President/CEO, CIPA
Join Us
Participation is open to all healthcare ecosystem stakeholders, including: health plans and healthcare providers; associations/consumer organizations; law enforcement and government agencies; academia and private research; and industry and technology service providers. Visit our Membership page or Contact Us.