Click here for Industry Resources
Follow these useful tips if you've been a victim of medical identity theft and/or fraud.
Medical Identity Fraud is Serious – Don't Ignore the Signs and Begin Remediation Immediately.
Medical ID fraud can pose serious risks to your health if you receive the wrong type of healthcare due to an identity thief corrupting your medical records. Medical ID fraud is also one of the most difficult and costly identity crimes to resolve. The sooner you begin your remediation process, the better chances you can limit the damages.
Click here to learn recovery tips from MIFA.
---
Help protect yourself against this costly and potentially life-threatening type of identity fraud.
What are Medical Identity Theft and Medical Identity Fraud?
Both terms refer to crimes that involve the theft of Personally Identifiable Information (PII) from another individual. In the case of medical identity theft, this also includes Protected Health Information (PHI) – such as name, date of birth, social security number, health plan number and medical records. Fraud indicates the stolen PII or PHI was used for personal gain by another individual. In the case of medical identity fraud, such gain can be realized both from the sale of PHI to others and from the use of PHI to obtain medical goods and services. Perpetrators commit this crime to obtain unauthorized insurance benefits, prescription drugs, medical services, employment, government benefits or other financial gain.
Click here to learn prevention tips from MIFA.
---
Click here to learn how to:
Detect Medical Identity Theft
Correct Mistakes in Your Medical Records
Protect Your Medical Information
Check for Other Identity Theft Problems
Are you an identity theft victim? The FTC's updated IdentityTheft.gov website is the federal government's free, one-stop resource to help people fix problems caused by identity theft. The site makes it easier to report identity theft and recover from it. Features on the site allow victims to:
Get a personal recovery plan that walks them through each step
Update their personal plan and track their progress
Print pre-filled letters & forms to send to credit bureaus, businesses, and debt collectors
The entire site is available in Spanish at RobodeIdentidad.gov.
---
Medical identity theft happens when someone steals your personal or health insurance information. They use it to get medical care, prescriptions, insurance payouts, even surgery. It's a lot like regular identify theft. It can damage your credit rating, cost you money and take time to clear up. Being a victim can even hurt your chances to get some jobs.
Click here to learn tips from MIFA Founding Member Aetna.
---
The accelerating pace of healthcare data breaches and the long-term impacts of becoming a fraud victim mean consumers must become their own first line of defense against medical identity theft, America's fastest-growing identity crime. ID Experts, which works with both consumers and organizations to mitigate the impacts of data breaches, offers 10 tips for protecting against medical identity fraud.
Click here to learn tips from MIFA Founding Member ID Experts.
---
Ask your friends to describe you and each one will probably say something different — about the way you live, what's important to you, your family, your interests — because your identity is about more than just your name. It's something uniquely yours; something you've worked hard to create for yourself. The Resource Center contains information to help you better understand what identity theft is, tips to help you protect yourself from becoming a victim of it, and more — so you can stay uniquely you.
Click here to visit the Resource Center by MIFA Member Identity Guard.
---
The California Attorney General's Office has provided an information sheet for consumers that provides tips on what to do in response to the various signs of possible medical identity theft. Click here to download the brochure.
---
Click here to see all ITRC ID theft victim resources.
---
Click here to see all AARP Health Care Fraud Fact Sheets.
---
Click here for consumer and victim information.
---
Medical identity theft occurs when someone steals your personal information (like your name, Social Security number, or Medicare number) to obtain medical care, buy drugs, or submit fake billings to Medicare in your name. Medical identity theft can disrupt your life, damage your credit rating, and waste taxpayer dollars. The damage can be life-threatening to you if wrong information ends up in your personal medical records.
Click here to learn more or read the OIG's Medical Identity Theft brochure.
Contact HHS's Office of Inspector General Hotline.
---
"More Than a Number" is the VA's new campaign to educate Veterans about identity theft prevention. The campaign references personally identifiable information (PII) that VA encourages Veterans to protect.
Toll-free Identity Theft Help Line number 1-855-578-5492, for one-on-one victim assistance. The Help Line is open Monday through Friday, 8:00AM-8:00AM, Eastern Time, with voicemail available for after-hours calls. TTY and bilingual assistance are also available.
Click here for identity theft resources for Veterans and their beneficiaries, including educational information and interactive multimedia, as well as links to other online identity theft prevention resources.
Click here to read FAQs, learn more about the "More Than a Number" program and how to report an ID theft incident to the VA.
---
The World Privacy Forum is the leading expert on medical ID theft. We published the first major report about medical identity theft in 2006 and brought this crime to the attention of the public for the first time. We maintain up-to-date information and tips for victims, as well as conduct and publish new research.
Click here to learn more and join the community of anti-fraud activists.
---
FraudAvengers was founded by the Foundation for Payments Fraud Abatement & Activism (FPF2A), a not-for-profit group of financial fraud prevention professionals. FPF2A created FraudAvengers.org to add "fraud prevention" to the public's understanding of "financial literacy"; to empower individuals to protect themselves and the ones they care about from financial abuse; and to impede criminals who seek to benefit from payments fraud. FraudAvengers is a community of like-minded fraud activists, including benefactors, sponsors, guest bloggers, link partners and concerned individuals, which was created to:
Help consumers recognize their personal responsibility for protecting their financial information
Educate individuals about the latest fraud scams and what they can do to protect themselves
Offer a place to post questions and discuss ideas and concerns about payments fraud
Provide links to other resources for fraud victims to obtain additional assistance
Inspire individuals to become active in a national "anti-fraud" movement
Click here to learn more and join the community of anti-fraud activists.
Learn How to Manage Medical ID Fraud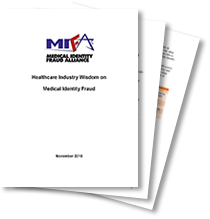 Industry Wisdom on Medical Identity Fraud
Healthcare Industry Wisdom on Medical Identity Fraud offers food-for-thought on how healthcare organizations can implement and improve their anti-fraud programs. The paper spans across a variety of topics including fraud management, health IT issues and patient authentication.
Get the Healthcare Industry Investments paper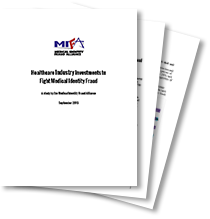 Industry Investments to Fight Medical Identity Fraud
The
2015 Healthcare Industry Investments to Fight Medical Identity Fraud
looks at the types of investments and priorities the industry is making to detect, prevent and mitigate medical ID theft and fraud.
Get the paper
Download the 2014 Sutdy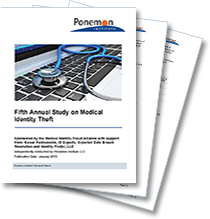 Annual Study on Medical ID Theft
The
2014 Fifth Annual Study on Medical Identity Theft
measures the prevalence, extent, and impact of medical identity theft in the United States to consumers and the healthcare industry.
Access the Study
TESTIMONIALS
Combating medical identity theft and fraud requires a focused public and private sector collaboration that unites thought leaders on this important topic.
Rick Kam, President, ID Experts
Join Us
Participation is open to all healthcare ecosystem stakeholders, including: health plans and healthcare providers; associations/consumer organizations; law enforcement and government agencies; academia and private research; and industry and technology service providers. Visit our Membership page or Contact Us.