You're here :
Home
Members in the News
Page 5
This is part 1 of a 4-part series on medical identity theft. With all of the healthcare data breaches this year, medical identity theft has become a major concern. This is the first in a series of in-depth articles by […]
Learn How to Manage Medical ID Fraud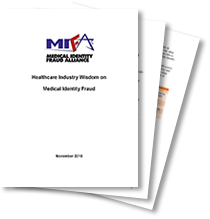 Industry Wisdom on Medical ID Fraud
Healthcare Industry Wisdom on Medical Identity Fraud offers food-for-thought on how healthcare organizations can implement and improve their anti-fraud programs. The paper spans across a variety of topics including fraud management, health IT issues and patient authentication.
Get the Healthcare Industry Investments paper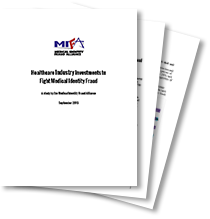 Investments to Fight Medical ID Fraud
Healthcare Industry Investments to Fight Medical Identity Fraud looks at the types of investments and priorities the industry is making to detect, prevent and mitigate medical ID theft and fraud.
Download the Survey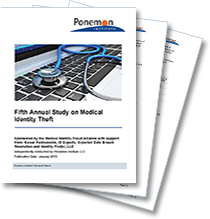 Survey on Medical ID Theft
The Fifth Annual Study on Medical Identity Theft measures the prevalence, extent, and impact of medical identity theft in the United States to consumers and the healthcare industry.
TESTIMONIALS
Combating medical identity theft and fraud requires a focused public and private sector collaboration that unites thought leaders on this important topic.
Rick Kam, President, ID Experts
Join Us
Participation is open to all healthcare ecosystem stakeholders, including: health plans and healthcare providers; associations/consumer organizations; law enforcement and government agencies; academia and private research; and industry and technology service providers. Visit our Membership page or Contact Us.