You're here :
Home
News
Page 8
Cybercriminals increasingly are using stolen medical records for other types of identity theft beyond health-care fraud, including filing fraudulent tax returns. Last year, almost 100 million health-care records were compromised, making them a hacker's No. 1 target, according to a […]
Learn How to Manage Medical ID Fraud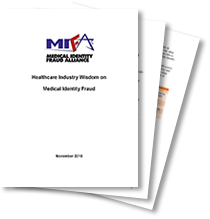 Industry Wisdom on Medical ID Fraud
Healthcare Industry Wisdom on Medical Identity Fraud offers food-for-thought on how healthcare organizations can implement and improve their anti-fraud programs. The paper spans across a variety of topics including fraud management, health IT issues and patient authentication.
Get the Healthcare Industry Investments paper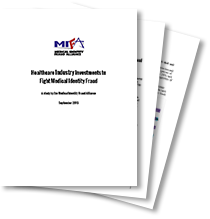 Investments to Fight Medical ID Fraud
Healthcare Industry Investments to Fight Medical Identity Fraud looks at the types of investments and priorities the industry is making to detect, prevent and mitigate medical ID theft and fraud.
Download the Survey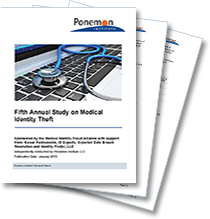 Survey on Medical ID Theft
The Fifth Annual Study on Medical Identity Theft measures the prevalence, extent, and impact of medical identity theft in the United States to consumers and the healthcare industry.
TESTIMONIALS
The Identity Theft Resource Center (ITRC) is proud to be a founding member of MIFA. Anyone can be a victim of medical identity theft and most individuals do not understand how it occurs, how to minimize their risk, or where to go for assistance. That is why the ITRC is committed to building awareness and educational tools for consumers and the medical community through various partnerships, such as MIFA.
Eva Casey Velasquez, President/CEO, CIPA
Join Us
Participation is open to all healthcare ecosystem stakeholders, including: health plans and healthcare providers; associations/consumer organizations; law enforcement and government agencies; academia and private research; and industry and technology service providers. Visit our Membership page or Contact Us.